Ok, so if 1/6 was too much then what about 1/4.5?
Well, I think it was better.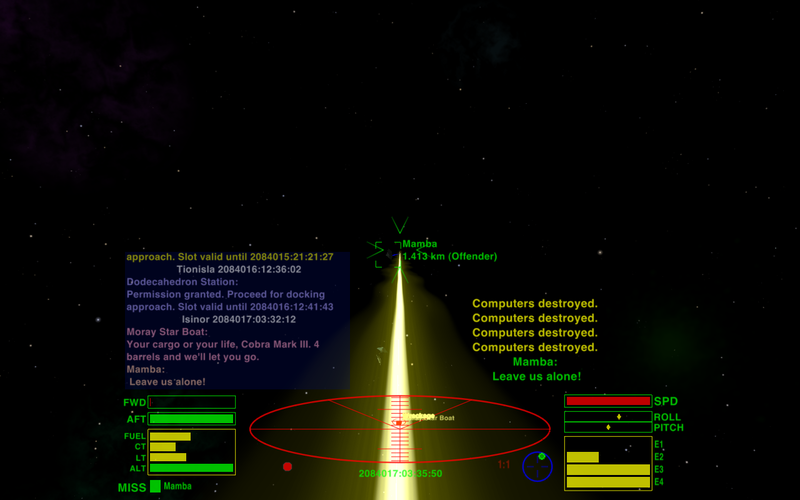 Not a great picture but you can see I was taking damage vs 2 mambas and a moray. In the end I paid for chasing down that mamba rather than letting it go and had my PSC just before the second mamba cracked.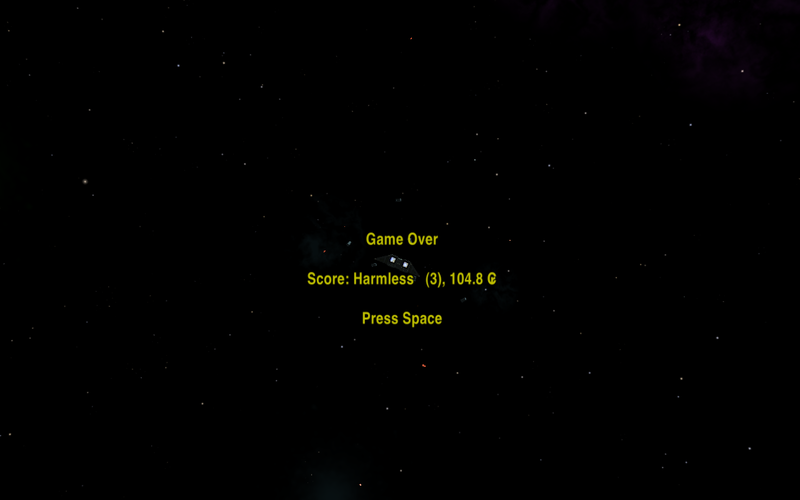 It was quite nice that rather than just getting ripped apart (as seemed to happen at 1/6 range), although I was still beaten, I was left thinking of ways I could have played it better. That could be quite nice but might also be too tough on beginners. The overriding impression was still that at short range, beam lasers can be lethal.
Later, I took on a python and a moray which started going very well but then I either got a bit cocky or the moray suddenly got serious when I destroyed the python. Again, PSC.
I'm tempted to bring beam lasers down to pulse laser range (instead of the other way around) and then divide by 4 rather than 4.5 for a similar result. The main advantage to this would be simply to make it easier to juggle the various figures in my when imagining the 'big bicture' of rescaling.
Meanwhile, another nice feature of the rescaled scanner:
This picture shows the distance needed from the station in order to hyperspace.
Just before the station leaves the scanner - not bad.
On masslocks again, the shorter times (and distances) required to escape masslocks also make the fuel injectors a little more efficient when used for this purpose. Previously I'd always want to use them but think it highly risky and usually not; that might sound like strategy but where the victor is boredom I'd consider the outcome unsatisfactory. In this build however whilst I don't think they could be used indiscriminitely, in most systems using them to escape the slower masslocks shouldn't cost you too much fuel and therefore make more strategic sense.
_________________
"
With our thoughts, we make the world
"
- - - Game too slow for you?
Masslock Compensators
- - - Trouble getting out of trouble?
Indestructible Injectors