So I've mentioned my 'issues' with the Fer-de-Lance before
here
and
here
, but not done much about it.
Well, my time seems ever more limited but this one's been amusing me, so to work.
Starting fom something closer to the elite model than the oolite one, and borrowing a name from the elite manual, I've been working on something sleeker, faster but still very much (I hope) with 'Fer de Lance' written all over it.
Despite the above, I can't help feeling I've turned it into a Ford Capri
... See what you think (with the oolite model alongside for comparison).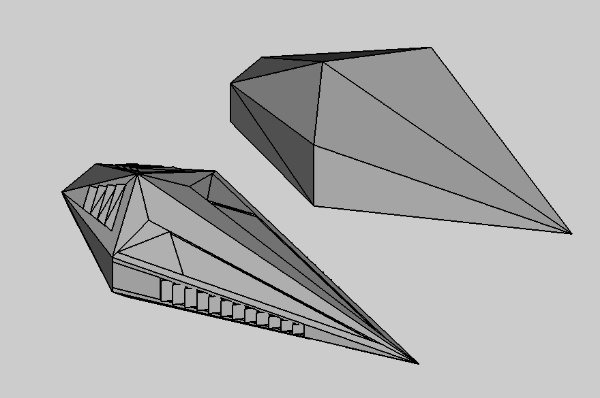 In the last pic the red lines mark the wireframe of the oolite model in the background.
I plan to call it the 'Fer de Lance Lightspeeder' and give it a speed of 0.375 - that puts it between a Cobra MkIII and an Asp MkII, which to my mind is about where it should be (although that's starting to make it sound like the Mussurana...)
I've made a version without the fins, in case they drive me mental trying to texture them. I have an interesting idea for a texture (not seen it in this game before) but not sure if I can pull it off.
I may also make a version of this ship that overwrites the standard FdL, as it is likely to do in my game.
P.S. Does anyone else find themself making low, involuntry engine noises as they model ships?