I like being able to switch around my Cobbie to use some of the other player models from various OXP's I have installed. But it's a pain to have to edit the save game file to set each one. So I created a simple OXP to do all the work for me. Select "Ship Respray" from the F3 screen, then, if you have alternate versions of your current ship installed, you'll see a list of respray styles. Select one, and see what the respray looks like.
In this image you can see a list of different respray styles available: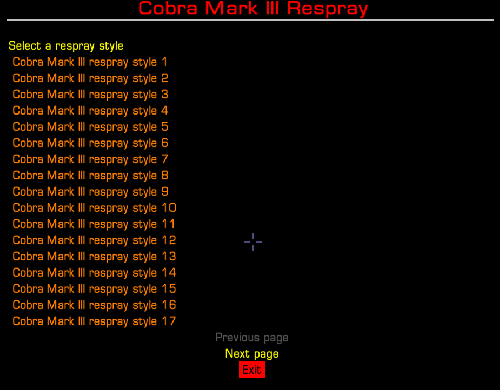 In this image I've selected one of the styles and I can now see what it looks like.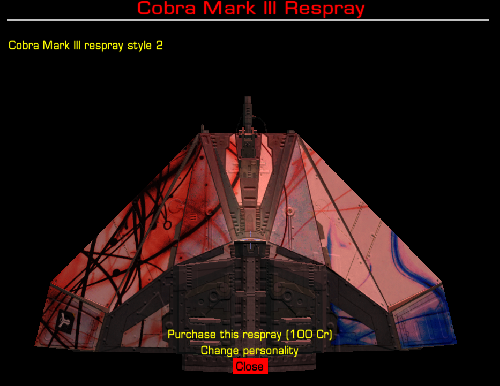 This should work with whatever ship you are flying, not just a Cobbie Mk 3. It should also allow you to switch to whatever styles are supplied by any OXP you have installed. I've made an assumption that if the ship class type of an OXP ship is the same as the current player ship class (ie "Cobra Mark III"), it can be swapped out without any impact to the player. If that assumption is incorrect please let me know!
This OXP uses the ShipStorageHelper to update the players ship to the selected model.
This OXP is slightly different to the "Respray for Griffs" OXP by Capt Murphy, as this will work with OXP's other than Griffs, and in no-shader mode.
Download links:
OXP Version
: This is a ZIP package that contains an OXP folder. Unzip the contents to your AddOns folder.
OXZ Version
: Download this and save it directly to your AddOns folder.
Or you can download the addon via the download manager in Oolite.
Let me know what you think.