Before I release this thing, a quick preview in case there are any consequences I hadn't thought of.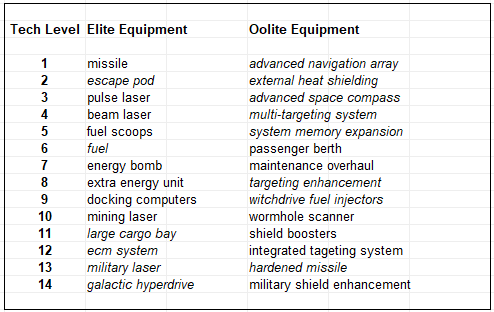 Some thoughts on the elite equipment...
Escape Pod - was TL6, here TL2
Given that the more rewarding option was often to reload a recent saved game, I don't think it needs to be made very exclusive.
Fuel - was TL1, here TL6
Sun-skimming is actually pretty cool it just isn't very rewarding, this would make it an important gameplay element.
TL 6 might seem a bit high but it's not purely about installing something but also having the infrastructure to supply it - maybe it's not that easy.
I considered TL2 but that would make it very rare; maybe TL4 is better and I could bump the beam laser up to TL6?
Large Cargo Bay - was TL1, here TL11
Getting another 15TC out of the Cobra MkIII would appear to be no small feat. Even if were only optimisation of internal layout that would likely be specialist work. I think it may have been so low as it represented a smart early purchase to really pay off in the long term but I actually think the early game would have been better off without it.
ECM System - was TL2, here TL12
Based on captured Thargoid tech but available at TL2. Hmmm...
Missiles were more deasly in Elite IIRC, and in Oolite they're much less so. Having the player be without it a little more often is no bad thing IMHO and would help balance reducing it amongst pirates.
Military Laser - was TL10, here TL13
Not a big change, just using up more of the tech levels.
It's supposed to be top of the range, the latest new fangled what-not, so why not?
Galactic Hyperdrive - was TL10, here TL14
This one just feels right to me.
However far the player is jumping with one of these, it would appear to be a substantial old hop.